I never heard of German New Year's Pretzel until a couple of days ago. A friend on one of the foodie boards mentioned it, telling me her husband's family owned a bakery and they always made this at the end of the year. She explained this is a traditional good-luck custom in Pittsburgh.
The pretzel is made with a sweet dough that's frosted with a confectioner's sugar frosting. Before midnight slice the pretzel. Everyone eats a slice at midnight to insure good luck in the coming year. My family thinks this is a better food custom for good luck than blackeyed peas. My friend said her husband remembered theirs having a nut filling, but the recipe she gave me does not use one.
I chose to cut this recipe in half and adapt the dough to be made in the breadmaker. Once I turned it out, I rolled the dough into an approximately 30" long rope about 1 1/2" in diametre.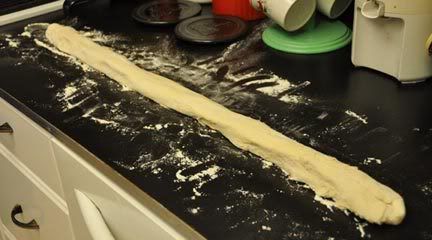 Here is dough, shaped into a pretzel and risen. Hmmm. I'm thinking the inside sides of this pretzel are looking a little close.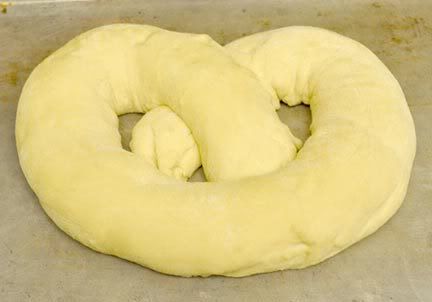 Out of the oven.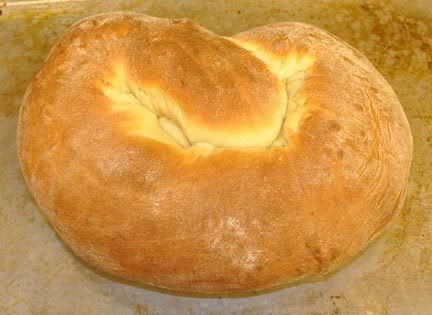 And on the serving plate. I'm now sure the inside sides of this pretzel are too close together.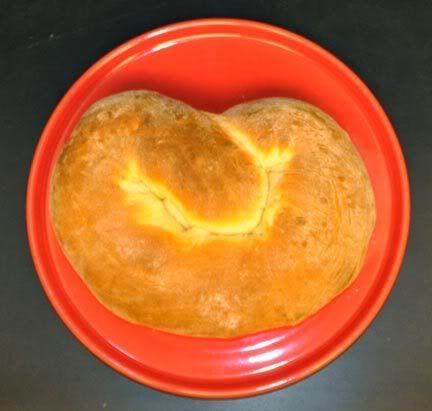 Iced and topped with slivered almonds. It sorta looks like it's smiling at me.

At midnight we will each have our slice for good luck in 2009.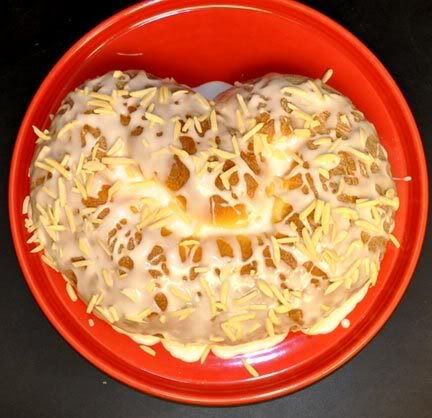 German New Year's Pretzel
2 cups milk
1/2 cup butter
2 pkgs active dry yeast
2 tsp salt
1/2 cup sugar
7 cups unbleached flour
2 large eggs

1 cup confectioner's sugar
Water
1 tsp vanilla extract
1/4 cup chopped almonds

Heat milk and butter until very warm (120-130°F.). Mix yeast, salt, sugar, and 1 cup flour. Slowly beat into warm milk. Beat for 2 minutes. Add eggs and 1 cup of flour. Beat for an additional 2 minutes. Add enough flour to form a soft dough. Knead until smooth and elastic, about 5 minutes.

Place dough in a greased bowl. Let rise in a warm place until doubled in bulk, about 1 hour. Punch dough down and let rise again until doubled. This should take about another hour.

Divide dough in half. Shape pretzel as follows: Roll dough into a rope about 30 inches long and 1 1/2 inches in diametre. Cross the ends leaving a large loop in the center. Flip loop back onto crossed ends to form a pretzel. Repeat with remaining dough.

Place pretzels on greased baking sheets. Let rise 15 minutes more. Bake at 375°F for 25 to 30 minutes or until golden brown. Cool on wire racks.

Mix confectioners sugar, water and vanilla to form a thin icing. Spread icing on pretzels and sprinkle with chopped almonds. Cut in slices and serve at midnight on New Year's Eve.

Makes 2 large pretzels.

Notes:
1. We did not need two pretzels for the three of us so I divided the recipe in half.
2. Also, I chose to adapt the dough to be made in my breadmaker. That required cutting the amounts of the dough ingredients in half. I used the full amount of confectioners sugar and vanilla for the icing. And extra almonds on the top.
Put 1 cup milk, 1/4 cup soft butter, 1/4 cup sugar, 1 tsp salt, and 1 egg in the breadmaker pan. Add 3 1/2 cups of flour, 2 1/4 tsp instant yeast and start breadmaker on dough setting. When dough cycle is finished, remove from pan. I did this part yesterday evening and put the dough in the refrigerator. It stayed in the refrigerator about 24 hours. Remove from fridge and let rest at room temperature about half an hour. On a lightly floured surface, roll the dough into a 30" rope. Shape into pretzel on greased baking sheet. Cover with damp cloth and let rise 15 minutes. Bake in preheated 375° oven for about half an hour. Place on serving dish; ice with confectioners sugar icing and sprinkle with almonds.
3. When my pretzel came out of the oven, there were no spaces in the centre. Next time I will make the rope longer and thinner.
4. I used more almonds than called for and used slivered ones, rather than chopping any.