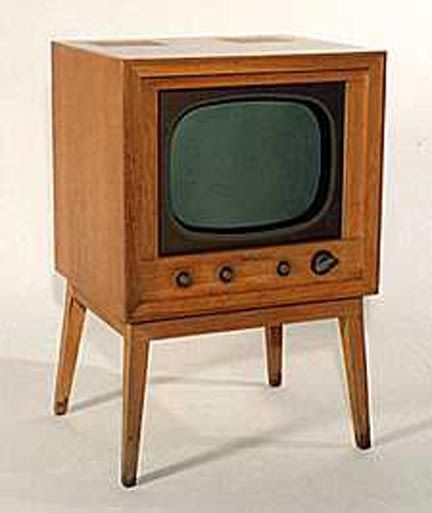 Back in the 1950s TV was new and exciting. Lots of dining options appeared, centred around this new appliance. If you read period cookbooks and women's magazines, you can find whole parties devoted to eating in front of the television. Snacking while watching was also highly encouraged. Looking on eBay a person can find all manner of trays, utensils, etc., developed specifically for the TV eating experiences.
This is the original receipt from which party mix developed. Mimi (my grandmother) got it off a package of either Kix or pretzels when TV snacking was the new "in" thing. The pretzels were pretzel sticks, but I have switched to the the miniature curved pretzels. When this receipt was first written the boxes of cereal were smaller than they are now. To compensate for that, I have doubled the amount of seasonings (using the same amount of grease and butter) and I changed the original 1 cup of peanuts, to the large container of mixed nuts.
One thing to keep in mind is that when the economy changes, boxes of cereals are usually one of the first things to be subjected to size changes. I have posted this recipe based on cereal size boxes that are current as of today. Give this a try. It is THE BEST party mix around!
Cereal and pretzels in the large roasting pan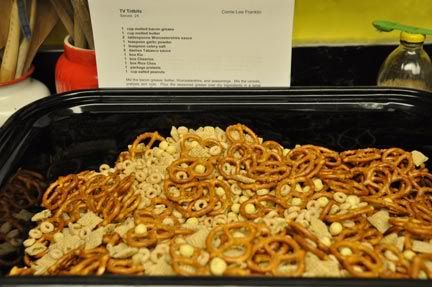 All mixed up and in the vintage Nesco roaster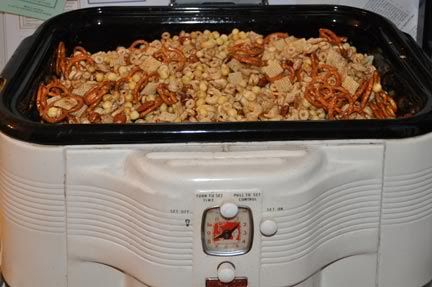 Served up in a period appropriate Kenilworth bowl on the Danish Modern coffee table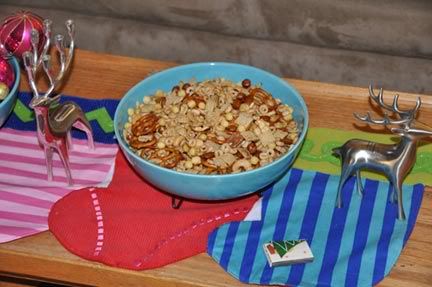 Care for a handful?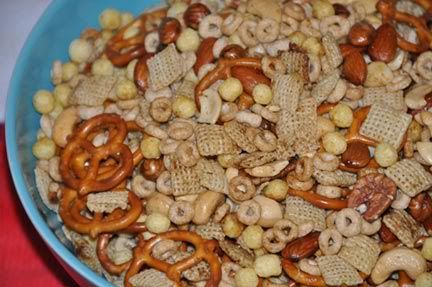 TV Tidbits
1 cup melted bacon grease
1 cup melted butter
4 Tbsp Worcestershire sauce
2 tsp garlic powder
2 tsp celery salt
12 good dashes Tabasco sauce
1 box (12 oz) Kix
1 box (14 oz) Cheerios
1 box (12.8 oz) Rice Chex
1 pkg (1 lb) mini-pretzels
1 (40 oz) container mixed nuts*

Mix the bacon grease, butter, Worcestershire, and seasonings. I usually do this in a 4 cup glass measuring cup and then heat it in the microwave to be sure the butter is well-melted. In a large roasting pan, mix the cereals, pretzels and nuts. Pour the seasoned liquid over dry ingredients and toss or stir gently to mix well. Bake at 200°F for 2-3 hours. Stir occasionally.

Notes:
1. In the 1950s nearly everyone saved bacon grease. If you have none, or if it is against your dietary principles, all butter works just fine.
2. It's easy to adjust the amount of seasoning in this to individual taste.
3. I use the cartons of mixed nuts* from Costco, and sometimes add extra pecans, just because we like them.
4. This is a large recipe. Rather than using my regular oven, I always bake this in my vintage Nesco roaster. It has a large removeable enamel roasting pan and sits off to the side without tying up the main part of the food prep area in the kitchen.